Atelier Jupe 'Savannah' in Palm Brush Stroke Soft Cotton Poplin and a 'Stash' Viscose
Posted by GABRIELLE ROWEN-CLARKE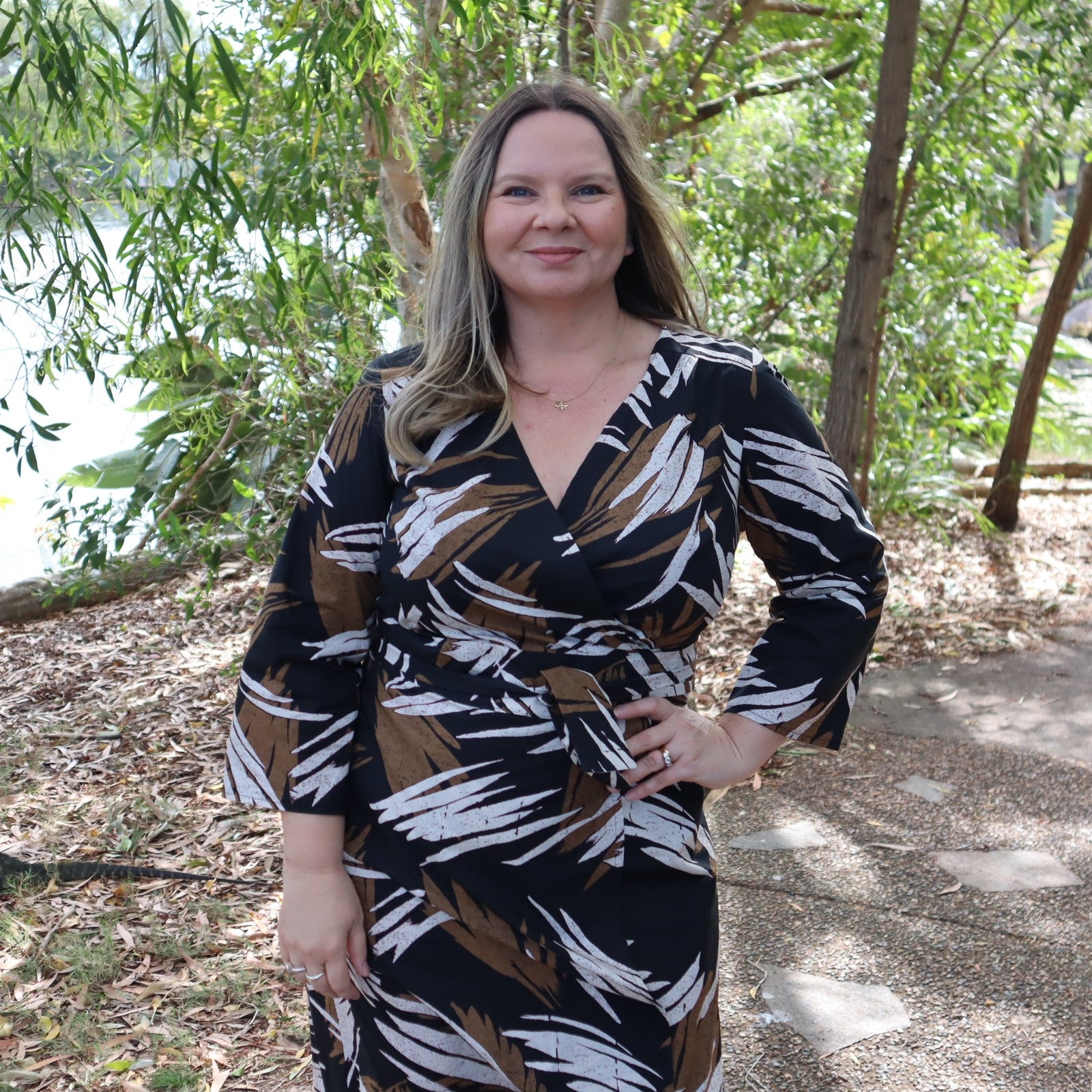 Well, I finally joined the Savannah fan club and made this lovely Atelier Jupe wrap dress.  I hope you have been following the #SewWrapped challenge that Cloth Edit @cloth_edit is co-hosting with the lovely Kristen from @dahlia_sewciety.  There have been some stunning wrap garments, and some really unique patterns being used, from a vintage bed jacket and pinafore, to wrap pants, PJs, jackets, and of course wrap blouses and lots and lots of wrap dresses. Follow the #sewwrapped hashtag to keep u with all the entries 🤩
The Atelier Jupe Savannah is a little different from the other wrap dresses I've made.  It has a back yoke that extends around to the front of the shoulders, and has some lovely gathers, which are great for fitting a fuller bust.  It also has bust and back darts which allow for a great fit.  There is a separate waist band which extends into the ties. 
You need to create the opening for the tie to thread through after the dress is completed.  I did this by using the biggest buttonhole my machine would do.  For reference, the tie is about 6cm wide and the my opening is about 4cm.  It works well. The sleeves don't have the fullness of the other wraps I've made, and this is great for wearing jackets over the dress during cooler months. 
I made two versions: one in a soft pink floral viscose languishing in my stash (it's years and years old), and another in a brand new soft cotton poplin from the Cloth Edit store: 'Palm Brush Stroke'.    I love the different looks each fabric and print give.
My Changes
In Atelier Jupe's recent fabric launch they made up the gorgeous Green and Purple floral in the Savannah, but redrafted the skirt front to omit the shaped hemline, and I have followed suit in both versions. 
It's an easy change and I just cut straight down to the hemline instead of following the curve of the pattern piece.  Easy Peasy :-).
For my Palm Brush Stroke version I needed to give the skirt a bit more fullness.  The slight A-Line is great for the viscose, but the poplin needed more fullness to have some movement.  I simply kept the centre waist of the skirt back placed on the fold, and just pivoted the rest of the skirt out from the centre fold.  It was around 8cm from the fold at the hem of the skirt.   I added about 4cm to each side of the front skirt pieces.  As with the back, I didn't add anything at the waist, but gradually added fullness below the waist until I had about 4cm on each side of the skirt pieces (at the hem).  Oh, I also added length to the sleeves, as Atelier Jupe did with their latest samples ;-).
I love both dresses, but an especially thrilled with the 1970s vibe of the Palm print version.  The length of the dresses is great and I didn't change that at all.  (I'm about 165cm tall).  I would love to make another version in one of the Atelier Jupe new prints. Hmmm, but which one ...
Until next time,
Gabrielle xx Collection 2019 Sale 70% Off Title for image