Papercut Patterns' Meridian Dress in 'Sojourn - Parkland' Japanese Linen
Posted by GABRIELLE ROWEN-CLARKE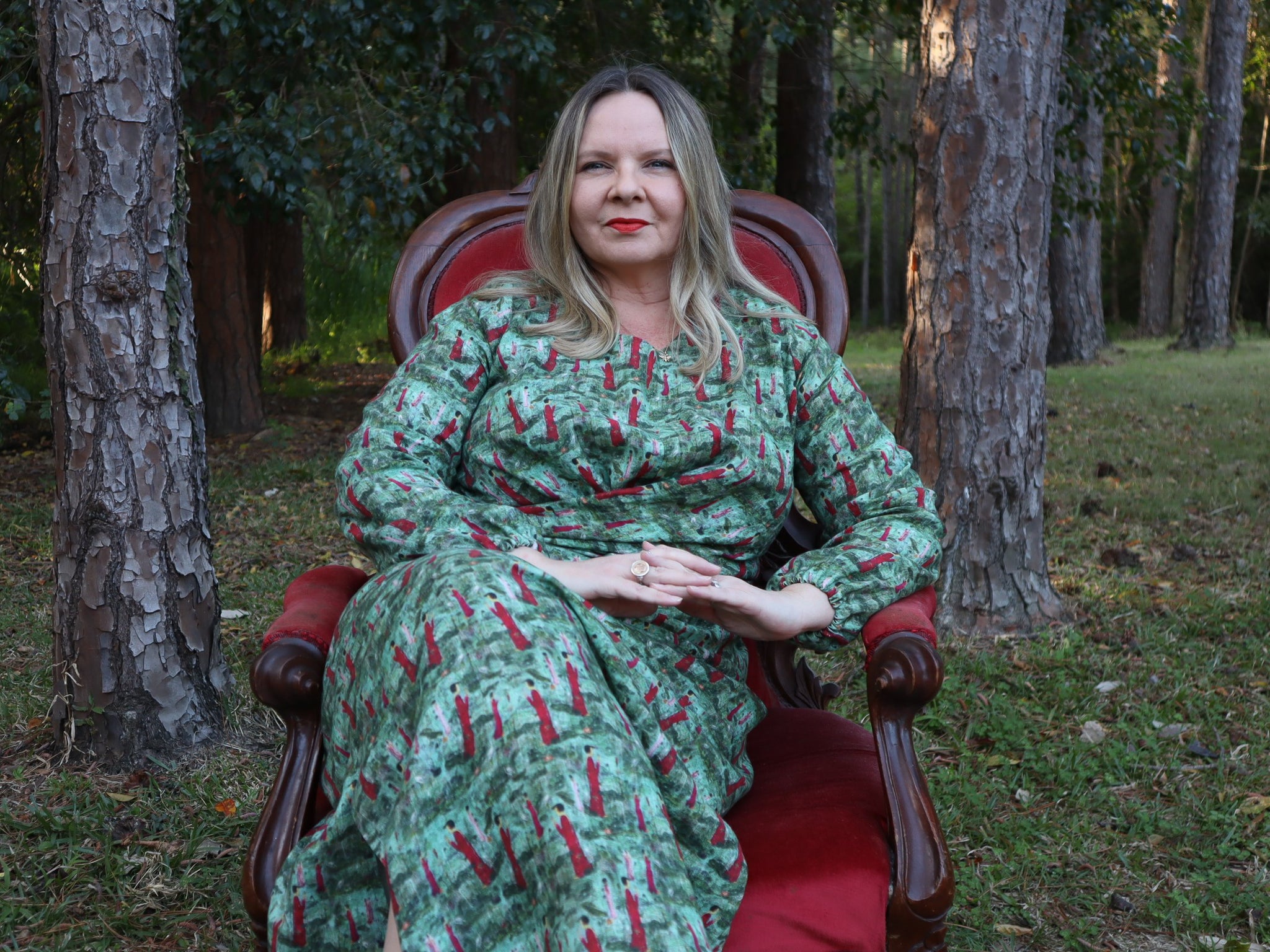 I am embarrassed that it has taken so long to make the Papercut Patterns' Meridian Dress.  I've had it for years, and had it traced for 12 months.  Sometimes you just need to wait for that magic fabric-pattern moment.
My little changes
I wanted a slightly fuller and longer sleeve, so I cut through the pattern piece, spread it, and added some more width and length. I finished my cuffs with 6mm knitted elastic because I like to pull my sleeves up 😁. I added about 10cm to the length of the ties so I had the option of wrapping them around and tying them at the front.  The other simple change was to add about 15cm to the length, for that chic near-maxi length.  I left a split on the right-hand side.  👌
What I love
I adore the soft pleats in the front and back skirt pieces. It provides some gentle room to move without unnecessary bulk. The signature Papercut Patterns' wrap feature looks très difficile but it's straight forward and lots of fun to sew. I kept on smiling as I followed each step, admiring the brilliance of the design🤩. The fit is amazing, but the ease at the waist and long ties means that this is an easy wearing and forgiving design. The back has my perfect closure. I always struggle with zips, and this features a 40cm zip (I just cut off a longer one) which stops about 17cm from the top, and the back neck closes with a button and loop (although I use a snap and sew on a button for show).
Fabric Inspo
My linen version has worked incredibly well. The Japanese linen has that desirable vintage washed rumple, and it falls beautifully.  Any Cloth Edit linens would be fabulous. It would be great in a plain colour like the  'Cruise' Collection, but consider the 'Checkmate' Collection and the one-of-a-kind linen prints such as 'Mesmerizing', 'Rouge Safari', 'Bouquet', 'Boulevard', and let's not forget 'Unforgettable'. 😮
I also think this would be a gorgeous dress for an event if made in one of the Linen Silks. Can you imagine this in one of the new 'Preludes', or the amazing panel/border prints: 'Bonjour Spring'. As this pattern has centre back and front bodice seams, it provides so many design opportunities with those stunning blooms.
There is also another colourway in Sojourn: Sojourn Woodlands. I have a top planned for a piece of this gorgeous cloth.  
I hope you like the photos. I was rather self-conscious😆, but had the idea of a red chair 'in the park/woods'. The fabric features such gorgeous greens, but also those vibrant moments of raspberry and pink.  The colours come up a little different in the daylight but are 'true' (in the different types of lighting).
Take Care,
Gabrielle ✂✂✂ Collection 2019 Sale 70% Off Title for image