Style Arc Anais Shirt Dress in Cloth Edit Linen | Silk - Winning Combo
Posted by GABRIELLE ROWEN-CLARKE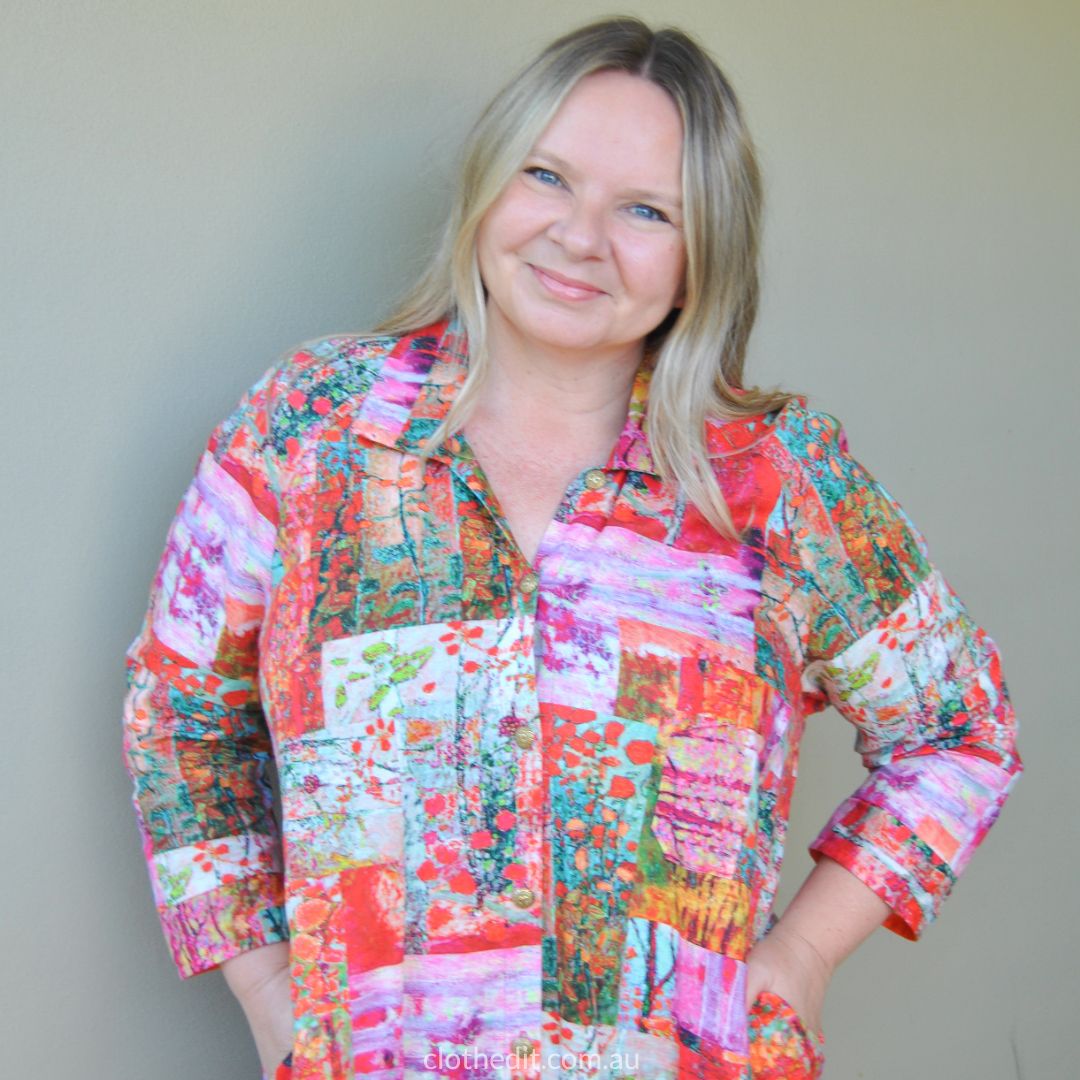 Sewing the Style Arc Anais Shirt Dress in Linen | Silk
- Linen | Silk Revel 
Fabric
and
Buttons
from Cloth Edit
- Pattern Available from
Style Arc
in Printed and PDF Versions
Since #sewshirty21 I've had a hankering for a maxi shirt dress.  There were many contender patterns (with I AM Patterns 'Irma' on the top of the list), but for this particular make I wanted to have visible buttons, so I chose the Style Arc Anais.   I love the two piece raglan sleeve, the sleeve band, the shape of the hem, and the elegant A line shape, that allows lovely movement. 
The sleeve is an interesting detail for a shirt dress.  As I was sewing it there seemed to be a bit too much structure, as the outer-sleeve seam brings a stability that a sleeve wouldn't normally have, but for me the shaping is perfect. 
Fabric, Buttons, and Styling
Now I love the idea of classic options (eg. stripes, checks, white cotton, hemp|cotton, the 'Cruise' linens), and there are future plans on this front, but it had to be the joyful Revel Pink for this make.  The Linen | Silks have a gorgeous drape and movement that is a dream to wear.  I opted for Gold Double 'C' - 15mm buttons, and I like the richness it brings.  I have been wearing my dress with sneakers, but this print will look great with espadrilles, sandals, slides and heels.  This is going to be great in winter with a denim jackets over the top.  The fullness of the Anais shirt dress, with the drape of the cloth is fantastic.
The Modifications
As with anything loose I make, I tend to whip up a tie at the same time.  The finished measurements of mine are 6cm wide and 2.8m long.  I added the same rectangular piece (to be worn at the back), as I did with my seersucker Calvari (see my Insta feed).  I find ties bunch up at the back, especially if they are wide, so this seems to take care of that grievance.  I added a little machine embroidery . . . just because ;-).  Next time I think I'll make the tie longer (so I can wrap it around twice and still have nice 'tails'), or make it a bit shorter.    
I added 3cm length to the back and front, which was about perfect.  I'm about 164cm.  Next time I think I will even up the front and back instead of maintaining the high-low effect.  My sleeve cuff is a little narrower than the pattern. 
This was a winning pattern for me.  I hope this gives you some inspiration for what you might do with the Linen | Silks. Once you make and wear something in this cloth, you tend to want more ;-).    
Gx
Comment (1 comment) Collection 2019 Sale 70% Off Title for image