Pauline Alice Ibi in "Pavilion" Linen Silk
Posted by GABRIELLE ROWEN-CLARKE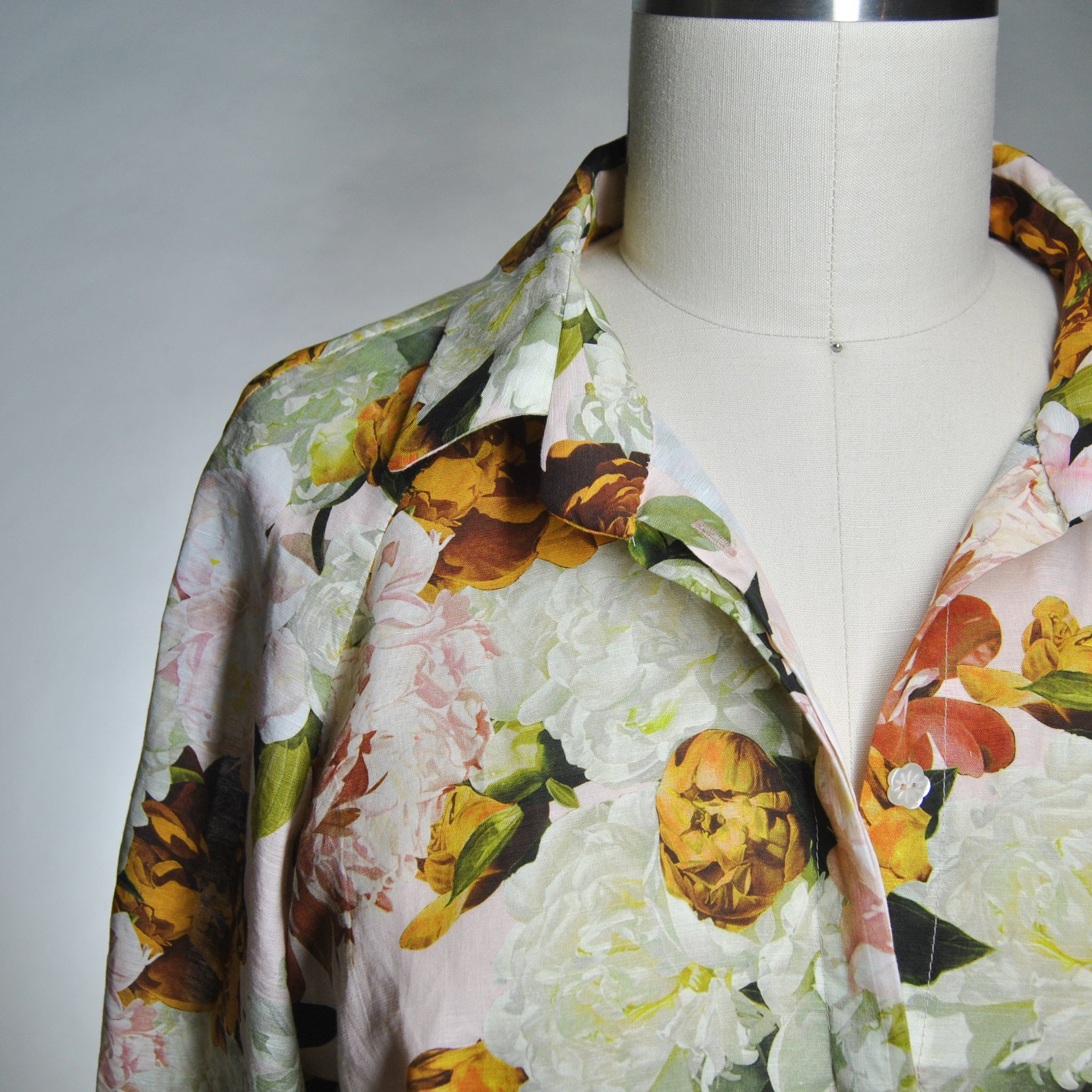 Pauline Alice Ibi in "Pavilion" Linen Silk
(Toile Version in a black and ivory cotton jacquard from my stash).
The "Pavilion" Linen Silk print gives me an "Easter" vibe. Whether your seasons are changing from cool to warm, or you are now getting relief from the heat of summer, there is a transitional feel to this print. The pale pink background is so very pretty, and the array of variegated white flowers add bountiful depth. The key element though is the autumnal toned antique gold blooms, which look sensational against the pink. It's such an unexpected combination. It would look great with denim, taupes and browns (and here I'm thinking about cool chords or chic moleskins), with a gorgeous loose or tucked in blouse.
I've had the Pauline Alice Patterns' Ibi in mind for this print since it arrived. Ibi is an amazing pattern with 6 views, and innumerable sleeve, bodice and skirt variations.
While I adore the surplice wrap bodice version, like my sister Tracy's version in the Linen Silk "Impressions – Golden Hour" (Below), I decided to try my hand at the shirt-maker bodice with its concealed button placket.
@trace_and_sew (on instagram)
Pauline's very clear instructions are fantastic and before you know it you have a perfect placket. It is also a fantastic way to hide any questionable button holes if your machine is temperamental on this front😅.  The raglan sleeves in this pattern are beautifully drafted.
The Toile and the Changes to the Pattern
Note - The Toile fabric is a cotton jacquard from my stash.
While I love the style of this dress, the toile bodice seemed to look better on me when I put some tucks in the front and back. I just did this at the fitting stage. For the toile sleeves I just left off the cuff, but in the end I added more length (hence the seam) and added an elasticised cuff.
I carried these changes over to the Linen Silk version by adding about 15cm to the sleeve length. I used 5cm wide elastic for lovely wide cuffs.

I didn't have much fabric for the toile's skirt, so it was just a matter of using what I had.  Rather than just gathering the skirt, it looked better mirroring the pleats from the bodice in the skirt.  In my final version I made the same changes to the front bodice and front skirt.  Rather than tucks in the back bodice and skirt, I added darts in their place.  I worked this so they lined up. I should also note that I made my skirt more A Line to take away some fullness at the waist.  
Supplies
I use Rasant thread (taupe upper and a pink bobbin) and a new #12 Schmetz needle.  For the cuffs I used 5cm wide elastic, and it's finished off with 13mm Pearlised Ivory Flower Buttons.
The Ibi Pattern
Get your Pauline Alice Ibi Pattern here.👌.    
Happy Easter.
Gabrielle ✂✂✂ Collection 2019 Sale 70% Off Title for image