Style Arc Anais Shirt Dress in 'Rio' from the Cruise Linen Collection
Posted by GABRIELLE ROWEN-CLARKE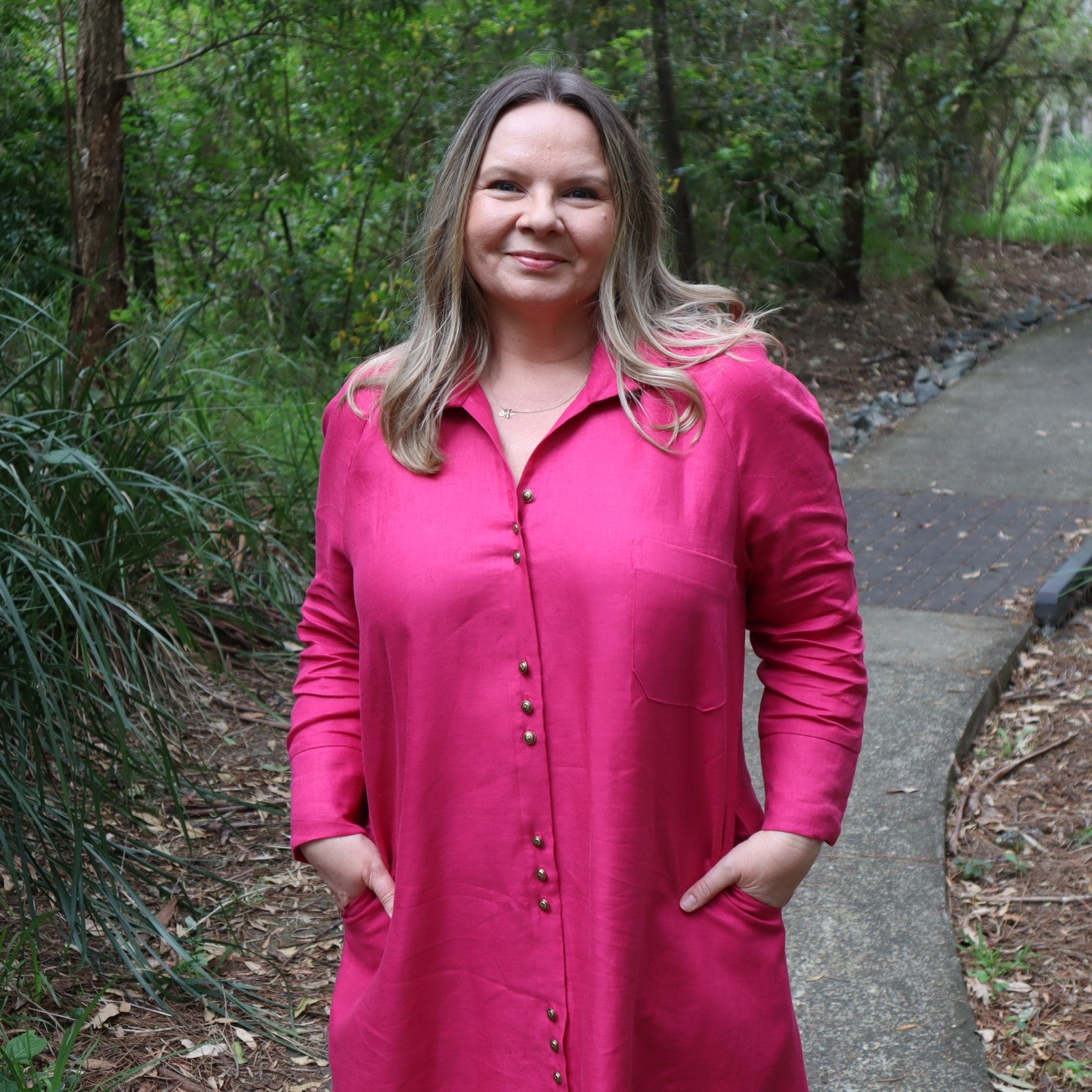 For those who are new to the Cloth Edit blogs, you may have missed the linen silk Anais dress I made in January 2022 It is a firm favourite of mine, and while I have been wondering what to make in my length of 'Rio', it dawned on me how much I love the cut and A-line fullness of this shirt dress. The Cruise Collection linens are light weight and are a dream for summer. I don't shy away from bold prints, but this is my first bold 'plain' dress, and now I want more.
(Note - Cloth Edit doesn't stock Style Arc Patterns)

I made a belt for my first version of the dress, but as I prefer to wear it without, I haven't made one for this iteration. There is lovely fullness around the curved hemline, but I love that it isn't too oversized at the chest, shoulders and bust. I wanted mine a little longer (front and back), and as with my first version I added a couple of inches.  

In my first version I really had to compromise on the cuffs due to not having enough fabric ;-). Instead of a double layer, my original cuffs were a single layer, and a little narrower than the pattern. In my pink version I've made the cuffs as per the pattern, and so they look 'neat' when I fold them up.
Gold buttons feature on this version too, but I decided that more, smaller buttons (rather than fewer, larger) seemed to look better. I decided to group them in sets of three, and I think it elevates the whole dress. While I will wear this with sneakers most of the time, I love how it looks with my sparkly new summer slides.
My tips:
The two piece sleeves are a real treat in this pattern. My tip is to press them using a tailor's ham so the seam doesn't poke out in an awkward way. I suggest sewing the outer seam first, then pressing, before you sew the underarm seam.
I needed to ease in the neckline quite a lot to fit the collar on, but all was fine in the end. Ensure to stay stitch the necklines ;-).
I find it easiest to hem the curved hem by sewing around the edges using a 3mm stitch. I can pull the thread and ease in the curves beautifully, and press the neat hem up.


Other thoughts on this pattern can be found in the earlier Anais Blog.
Gabrielle x Collection 2019 Sale 70% Off Title for image